Doing a phone interview while waiting in line at a suburban Minneapolis Home Depot, Michael Schneider probably doesn't elicit very many stares.
But give the man some leather pants, a pair of platform boots and a shred-ready ax, then, he is ready to rock your world.
"I have the best job in the world," Schneider, guitarist for the arena rock tribute band Hairball, explained. "I get to live out my childhood dream every time I go on stage."
Billing itself as a "Rock & Roll experience you won't forget," Hairball combines lights, video screens, pyrotechnics as well as the music of Van Halen, KISS, Motley Crue, Queen, Journey and Aerosmith, all in one two-and-a-half hour show.
In total, Hairball has curated a catalog of headbanging hits for the past 20 years. Schneider, who also goes by the nickname "Happy," has been tangled up in the touring troupe for more than 18 of those years.
Hairball will be in concert at 8 p.m. Friday at the Tyson Events Center, 401 Gordon Drive.
"We aren't your typical '80's Tribute' band," Schneider said. "Hairball is an event, an attitude and a way of life that will never go away."
Indeed, Schneider has wanted to live the rock and roll lifestyle ever since he witnessed his first concert.
"You'll always remember your first time," he said. "My first concert was KISS and I saw them in 1978. I was in the sixth grade at the time. The entire stadium was on its feet during the entire show. It was the sound the excitement that drew me in."
Well, that and the music, of course.
"I had every 45 that Boston ever recorded and the Doobie Brothers and the Eagles," Schneider said. "I loved them all."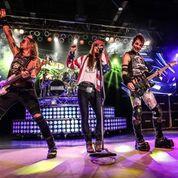 Schneider remembered the energy as a musician in his own bands as well as when he joined Hairball.
"There is nothing like seeing a rock band in a big arena setting," he explained. "You need to experience the booming sound, the special effects and the circus-like atmosphere in person."
According to Schneider, everybody harbors a secret — or not so secret — to become a rock star.
"It doesn't matter if you're Alice Cooper or AC/DC, you wanna be in the spotlight," he said. "You wanna hear the screams."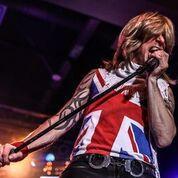 Plus with Hairball, audiences are hearing the cream of the crop during every show.
"At every Hairball show, you'll be hearing a smorgasbord of classics from 12 – 15 different bands," Schneider said. "We're sort of the buffet line of rock. If you're lucky, you may have seen Elvis or Led Zeppelin in concert while they were in their prime."
"With Hairball, you get to experience all of the music that you love all at the same time," he added.
OK, whose music does Schneider love?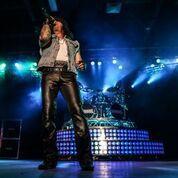 "Obviously, I love a lot of the old sounds and my tastes changes all the time," he admitted. "I may be listening to everybody from The Carpenters to Cheap Trick."
Certainly, Schneider draws inspiration from such seminal rockers as guitarists Pete Townshend, Brian May and Angus Young.
"When you hear guys like Townshend back in the day, there's an intensity and a fury like nothing else," he said. "It will always be cool."
This is what Schneider aims to bring to every Hairball concert.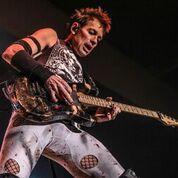 "I consider our shows to be unsafe safe places," he mentioned with a laugh. "We are playing the music that turned us into rock fans in the first place."
Nowadays, Schneider knows Hairball aficionados can come from all ages.
"We have everybody from children of the 80s to elementary school kids," he said. "You can go on YouTube and see live performances from practically every artist. It really is something when you're playing Led Zeppelin and notice an 8-year-old kid mouthing every word."
According to Schneider, this is what keeps Hairball going, year after year.
"You know that expression: the book is better than the movie? Hairball brings our music that many have hear as records. We take that music to the next level," he said. "Stadium rock needs to be heard in a big setting."
Meeting with fans, Schneider said he's helping them relive a favorite part of their past.
"We get to perform the book of rock and roll while our audience can embrace their youth for just a while longer," he said.
And what about those kids who are hearing legendary tunes, live, for the first time?
That's how Schneider first experienced KISS more than 40 years ago.
"Rock and roll is exciting and crazy and it will never die," he said. "Welcome because this may be the first day of the rest of your lives."